Cherry Heung- Owner Cherry Travel Tours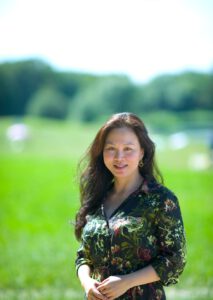 Being an HR person, I always loved interacting with new people, but those interactions were mainly to get them jobs. This time it was a different endeavor. I had started interviewing people for my blogs but never fathomed that this would take me closer to life's unsaid realities. Every new person was like a walking book around me. I wanted to look deep into their hearts and capture in words the untold feelings.
Well, as my interaction with expats increased, I recognized that people have invaluable life experiences. However, not everyone ends up writing their autobiographies, so many valuable lessons remain untold. Having found an opportunity to connect with people and getting to know them at personal level I realized, every smiling face goes through a lot of effort to sustain it.
One such smiling face is of Cherry Heung, from Hong Kong. Cherry runs a travel agency in Amsterdam; with a unique concept of networking on tours. That is how we met on one of her local networking tours. She calls herself a "world explorer" which prompted me to know her more. Despite her carefree nature, she has been meticulously organizing international tours. She has a captivating smile that wins a million hearts. I complimented her too for her fascinating smile. She smiled again and said we will sit for coffee and then she will take me behind that smile.
Cherry's connection with the Netherlands started in 2006 when she got in a relationship with a Dutch partner. She first visited the country briefly   to experience the life in the city and of her partner. Then in 2007, she finally moved to give her life a new beginning. Having lived and studied abroad from an early age in Australia, Taiwan and Vancouver, Cherry comfortably gelled with the Netherland's culture.
Cherry is very open minded because of her diverse international exposure so the only thing she had to deal with, was the difference in the outlook of Dutch people, language and climate. When she started living in the Netherlands, she had to learn the social norms, customs and practices to integrate fully in the society. It was initially hard, but she gradually succeeded.
Having had her personal life settled, her passion for travelling and meeting up with people led her to develop a 'Networking Tours' concept. This allowed people to meet up with others while travelling. Her motto was fun loving "Life is too short not to make an impression!". With this in mind, she made sure whatever she does should leave a mark and a happy memory behind. I was quite enamored by such an intention. For this reason, she learnt Dutch quickly to make people feel at ease in her tours. She has a great flair for languages and speaks English, Mandarin, Cantonese, some French and Dutch.
I was still wondering, if her life was so hunky dory, why did she say there is a story behind it too and the answer was not far. I asked her if she ever felt lonely or lost? Her voice kept calm, but amazing confidence ushered in her reply. "Of course, everyone should experience this before they can find their new and stronger selves." A moment of silence and then she reminisced the transitional period of terminating the relationship with her Dutch partner who she madly loved. She had never thought of being without him hence never felt the need of having her own circle of friends or network. She was simply besotted in love.
Then came the time she had to decide for herself. It was the time for decision. She had three options-Going back to her hometown Hong Kong or flying somewhere else to make a new beginning or being here in the Netherlands, where she invested her five years learning to live the Dutch ways. Still unable to decide and searching for answers, Cherry started travelling around Europe and Canada by herself to get her mind at peace and to think sensibly.
During her journey, her inner voices kept reminding "never be too late to start experiencing life, never be afraid of failure because it is a chance to learn". She got the signal and finally made up her mind to not leave the Netherlands and pursue what she loved being "a Networking Tour specialist".
Not many people can act so daring but Cherry was always independent. She could spend time with herself happily while many people find it impossible. They need to have people around them to maintain a normal active life. Cherry had then decided to go on, so she started to create her own network and her own social life after the breakup.
She was working for private companies for several years until 2013 when she finally started her own business. Her 'no fear' character made her quit her job and plunge into making her passion her profession. She wanted to do something of her own, for better or worse, she just wanted to try. Talking to Cherry, I realized, that if we start doing what we are passionate about we will never have to look for anything else. She was so honest about the fact that she merged her profession and passion because of which she never had to take leave from her work.
Through her tours, she spreads messages that we come across good and bad times just as in life, but in the end, we learn, and we excel. At times, the predicted weather for the tour says, "bad" but, it turns out to be a miracle and weather turned great. Her words were simple – "If we don't lose hope in life, life would never give up on us!".
Having had her own share of experiences, she felt that social networking is the best bet to survive in the Netherlands. Developing hobbies, meeting like-minded people, learning the local language, enjoying the weather (whatever it be) helps keep the feeling of loneliness away and makes one feel at home in the new home. She strongly believes that we as expats should experience more and more, better or worse, as this will help us know ourselves better.
Cherry's tours are still going on during the COVID times. She believes in facing life with a smile no matter what life throws at you. She delivers a touring experience with a personal touch which people never tend to forget. Her story is not just about connecting people with beautiful places but is also about sailing through the tough times with optimism and smile. 
Visit Cherry Travel Tours website here