"We do not believe in bad weather; we believe in good clothing"- a positive thought shared by Vyjayanthi Iyer, CEO, Navras Academy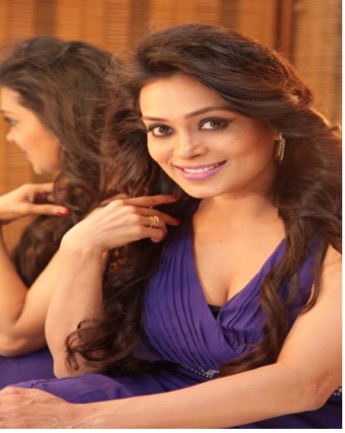 It was India's Republic Day celebrations in the Netherlands. The event was organized by Indians settled in this country. My son was also performing in a group cultural dance. So, I happened to be a part of the program and got to meet so many Indians under one roof. The interesting part of the Netherlands is that the Dutch don't mind celebrating your traditions with you. You can celebrate with full zeal and enthusiasm and the Dutch try to know more about you through such events. They are curious and accepting of your values and traditions. Many Indians brought their Dutch friends along to the event and some other nationalities were also present.
Amidst the celebrations,I saw everyone's attention moved to the next performer, the hall was filled with thumping sounds, the voices were cheering someone. It was as if the audience was waiting for this performance and it intrigued me more. I noticed a lady walked towards the stage dressed in traditional Bharat Natyam attire (dress of traditional Indian dance), and when the show started the auditorium started to rock.
I was astounded by such a spectacular solo performance. The lady was incredibly talented. and the showstopper was Vyjayanthi Iyer. I was mighty impressed and just rushed to appreciate her performance as many others did. I felt the praise was far less than what she deserved. The event ended but her performance could not go away from my mind. The grace, the agility, the expressions she carried was mind-blowing. She had a knack to make everybody sit on their seats and just be hooked on to her moves. That is what I felt success is.
I decided to get in touch with her and learn more about the fan following she managed being an expat. Life has become so simple using social media. I immediately checked her out at Linkedin and we connected. She is the CEO of Navras Dance School Amsterdam and I decided to meet her. This was the beginning to know the tale of this daunting star.
Like many others, she experienced a culture shock – mainly the directness of Dutch people. Hearing this out was not new. Being an Indian I felt the same as we always want to make everyone happy. Saying "No" is very difficult or to say anything that could hurt someone is simply impossible. We think emotionally most of the time.
When she moved to the Netherlands from India, she was already into modeling and acting. She immediately registered herself with a few international talent agencies locally; however, it was not a piece of cake to start over again with your career in a different country. Yet luckily, she got a few modeling assignments, however, the craving for doing something more was pushing in her. She has always been obsessive about dancing and realized that Europeans loved Bollywood dancing.
No dance is ever complete without the Bollywood flavor in it. I guess Vyjayanthi had a great sense to choose her stream. She started to teach initially to a small group and within few months she registered her dance company called Navras.
She started giving regular classes. Through word of mouth, more and more people joined her lessons. She started giving workshops for companies, groups of people, couples, private lessons for kids, and Bachelorette parties. Many Indian/Suriname/European families started contacting her to learn Bollywood dance. She also got offers to perform at their weddings, which gave her pleasure and professional fulfillment.
Vyjayanthi originally came from an HR, public relations, and customer service background although, her flair for dancing brought her completely into this industry after coming to the Netherlands. 
Talking to her, I realized, language was never a hurdle for her as everyone spoke English. She has managed to speak and communicate in her broken Dutch so far. However, personally, she wants to learn, speak and write Dutch fluently. This will eventually open doors for her to give dance workshops for Dutch schools kids.
She gave a lot of credit to her Dutch circle for her local grooming. She happens to get a lot of practical advice and guidance whenever she meets her Dutch friends.
What keeps her going was my last question to her, to which she replied beautifully with a quote from Bruce Lee. "If you love life, don't waste time, for time is what life is made up of". Vyjayanthi just cannot imagine the idea of wasting time and doing nothing. She feels if you have a passion in your belly, nothing can stop you unless you are lazy, have excuses or like to procrastinate.
She felt proud talking about her husband and his support in setting her career up in this country. They both work hand-in-hand bringing success in each others' lives. She boldly said," If we fail, we talk about it, learn from that failure, and move ahead." In the process, she learns to be more disciplined and focused which is essential for success.
Having reaped success herself, Vyjayanthi wanted to share that nothing is impossible. She strongly feels that if you are disciplined and focused on whatever you do, whether you are working, you have a business, or you are a housewife, you need to know your priorities clearly. For this, she really admires the Dutch as she feels they excel at it. She advises not to let the weather get in between you and what you want to do, like meeting with friends, going to the gym, or networking, etc.
One of her Dutch acquaintances said to her, "We do not believe in bad weather; we believe in good clothing" – Indeed such a positive thought, which rubbed deeply on her.
Just penning down the conversation with Vyjayanthi was like a breath of fresh air. If you are reading this blog, you should definitely then take out time for yourself. Do not get stuck in your daily routine, do something that you love.
If I look back, life as an expat for me too has been a roller coaster ride. I've experienced the jerks, learned lessons, yet am still moving ahead. Everybody in Amsterdam is daily coming across something and is getting used to it. The idea is about what we really want to do- experience, enjoy, learn, accept or run away. The choice is yours.
Jagdeep Kaur
I am an HR professional and a freelance author with more than 13 years of experience working in the areas of General HR, Recruitment, and building start-ups. I live in Amsterdam, The Netherlands, and love to write about my experiences and of other expats in this beautiful country. My blogs, interviews, and poetry are a pure reflection of my personal interactions, thoughts, and experiences.