"I am not yet finished! It is actually just the beginning" – An interview with Jaqueline Maria Costa De Menezes (Actress and Bilingual Teacher)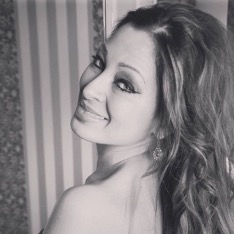 I met Jaqueline for the first time in the international school where my boys studied. She had a typical Brazilian accent. As a teacher, she seemed just perfect. She was wonderful with the kids. She had a charm that nobody could ignore. One day, I read about her upcoming performance in a theatre and I was surprised that my son's teacher was an actress. Another day, I stumbled on her profile on social media to vote for her candidature for Mrs. Netherlands Universe. That was intriguing but for long, I did not get to know Jaqueline any better. I was curious to know her expat story. Finally, we connected on social media and I kept getting updates of her move to acting. 
To me, this was the time to unveil her life story. I decided to book an appointment to know the secret behind this Brazilian beauty. Jaqueline first arrived in Holland in December 2006 for her pre-master research: Bilingual/bicultural children. She chose the Netherlands because of its rich intercultural population and dynamics.
Talking to her, she revealed that she came in an Au Pair program. She was there to be a Portuguese language teacher for a bilingual child. Her interactions with this child would serve as the material for her research. She lived with them for eight months. During this time, she experienced the country as a tourist. She respected the freedom of the country, no discrimination, and the honesty of the people.
Life looked much fairer to her than in Brazil. The difference between rich and poor was barely noticeable. The cultural diversity was well appreciated. Her passion for dance was quickly recognized locally. She was soon invited to be a samba/axe (Brazilian dance) teacher. Getting the opportunity, she was on the seventh heaven. She felt home, appreciated, and accepted.
Still, she wondered why she would live in the Netherlands. Love for her country, family, and friends brought her back to Brazil. However, a piece of her heart was left behind. She made special soul-friends with whom she connected as if she had known them forever.
In Brazil, she had heard that Europeans are cold and skeptical, but her experience was different. She found them as one of the most connected with spiritual life and energy. She really valued this about the Dutch.
Coming back to Brazil, she felt traveling back in time to a civilization that is still to progress. She experienced a lack of honesty, respect, and a fair social system in her own country. She couldn't stay happy there, so she decided to return to the Netherlands. This time, the country had a different plan for her. She found the love of her life. Within a year she started living with her Dutch boyfriend, re-starting her professional life from scratch.
Everything was sensational in the beginning; she admired the country, its culture, her in-laws' supportive nature, and the warmth with which they accepted her. She valued living in a very safe place (something which did NOT exist in Brazil). Every experience was giving her an energy boost. Very soon, she got introduced into a Brazilian community and got involved in theatre, music, dance, and modeling.
In Brazil, she worked in one of the best schools in Sao Paulo and had a great salary. Her professional life was a success mainly because she was competent and spoke fluent English. Here in the Netherlands speaking fluent English was not an edge. So, things started to give a different impression after some time in the life of Jaqueline. She slowly began noticing that you are much appreciated as a tourist (when you respect the rules). Dutch appreciate you and look up to you when it comes to cultural work (dancing, singing, acting, etc). However, it is not so when it comes to intellectual work.
She got uncountable 'Rejections' when she applied for the teaching jobs in the international schools. While in Brazil she was one of the best English speakers but in the Netherlands, she was an average English speaker. At most, she got was the job of a substitute teacher. Amsterdam as she felt, was full of native English speakers and they got preference over her despite their inadequate experience.
She soon got her NT2 Dutch diploma. Theoretically, that would open many more professional doors for her but in practice, it was very different. She started applying for jobs in Dutch childcare. No sooner did they speak to her on phone, they would turn her down because of her English/Dutch level (accent).
As Jaqueline kept narrating her troubled days, I got down my memory lane feeling the same pinch. Well, it took her four years, when finally, an international school, invited her and appreciated her international background. The fact that she spoke four languages was for the first time considered a big plus.
Apart from teaching, she dedicated her time to pursue her hobby in theatre acting. It started as volunteer work but unexpectedly grew into a profession. After three years, Jaqueline took a break from teaching and pursued acting as a career. To refine her skills, she moved to New York, to study at the New York Film Academy. Finally, she returned again to the Netherlands with a big bang. She is thankful for all the support she got to grow and pursue her newly found passion in this country. Language or accent is not a problem anymore for her as she can always play a foreigner. This is the positive side of living in an international country.
Today, besides working as an actress, Jaqueline also works for non-formal education ONG projects. These are sponsored by Erasmus plus and the Dutch government. She travels around the world giving training, promoting non-formal and informal learning mobility, and active participation among young people. Her work also entails cooperation, quality, inclusion, creativity, and innovation at the level of organizations and policies in the field of youth. In the training, she often combines her teaching and acting skills, impacting people's lives positively.
COVID restrictions negatively impacted Jaqueline's work as well, but the pandemic did give her the courage to drop her stable life and dared her to choose one that made her happy! There are ups and downs and consequences to everything. However, Jaqueline is proud to say that there has not been a moment when she regrets her choice.
She has become more focused in her life with yoga, healthy eating, contact with nature, and meditation. She also started her own Brazilian school where children can experience Brazilian culture and language. It took Jaqueline years of hard work to reach where she is today. Gladly she can now say that she is a successful Brazilian in the Netherlands.
Her closing words to me were very optimistic, "I am not yet finished! It is actually just the beginning."
Her story clearly portrays that nothing comes easy and working hard can increase the probability of serendipity.
Jagdeep Kaur
I am an HR professional and a freelance author with more than 13 years of experience working in the areas of General HR, Training and Development, Recruitment, and building start-ups. I now live in Amsterdam, The Netherlands, and love to write about my experiences and of other expats in this beautiful country. My blogs, interviews, and poetry are a pure reflection of my personal interactions, thoughts, and experiences.