COVID cannot dampen our spirits- "Tulip Talks" celebrating Kings Day with The Mayor of Amstelveen Tjapko Poppens, his wife Evelien and Amstelveen Oranje
It was April 30th, 2011 when my family and I first experienced the charm of the Queens day in the Netherlands. The Netherlands was embraced in the orange color in all its possibilities. All these years I have been on the receiving end, enjoying events hosted across the Netherlands for this special. Today for the first time I dared to go on the other side.
There started another venture for me to know what goes on behind the scenes. The non-profit organization Amstelveen Oranje based out of Amstelveen, has been organizing events every year. It's been decorating the city, setting up flea markets and hosting the Mayor. They further go along with the Mayor, taking a city tour in a bus dropping off the special Dutch pastries called tompouce in the old age homes, hospitals, and other care institutions. Today I could see the effort that goes behind arranging for such occasions. Three Cheers Amstelveen Oranje.
But this year, it was different. Not that we now celebrate King's Day on 27 April 2021, as against Queens Day but COVID changed the fate of all occasions.
I was glad to be a part of the King's Day in these not-so-normal circumstances as I saw COVID failed to dampen our spirits for this day.
The day for me today began at 7:30am reaching to the location of Amstelveen Oranje. We started loading the tompouce boxes in the cars for delivery. Amstelveen Oranje arranged a total of 5 cars, each driving across 6-7 locations in Amstelveen. We delivered around 3200 pieces of Dutch tompouce and marked the celebrations of the King's birthday. A tradition that has been going on for years.
The most amazing part was meeting the Mayor (Burgermeester) of Amstelveen, Tjapko Poppens along with his wife Evelien. I was very excited to see them helping us put boxes in the cars and driving down to a few locations to deliver the tompouce and meet with the people.
We had a pleasant opening ceremony with them at the meeting place of Amstelveen Oranje with some candid speeches and one-to-one conversations. They are amazingly delightful people with a great feel for expat integration.
Till date I was enjoying King's Day as an expat but today I celebrated it as a Dutch. I felt integrated vibrating the same spirit. I did not feel out of place because I was dressed in orange and everything mattered to me the way it did to any Dutch. The agenda has always been the same for every King's day, the feeling of making others happy and spreading smiles.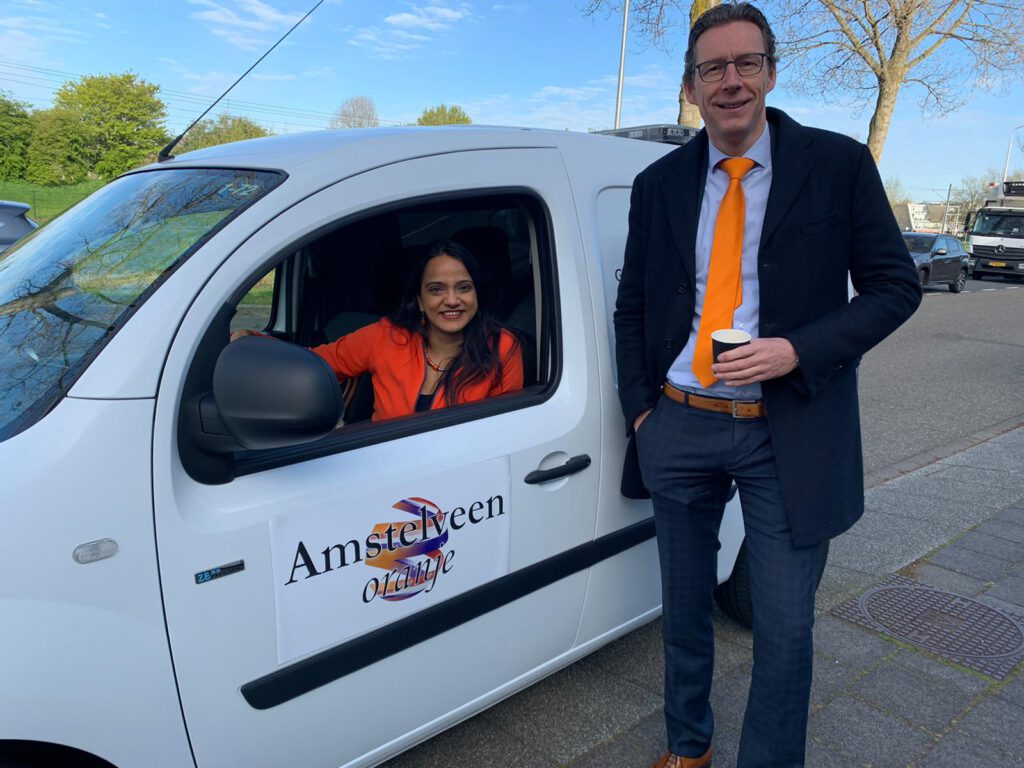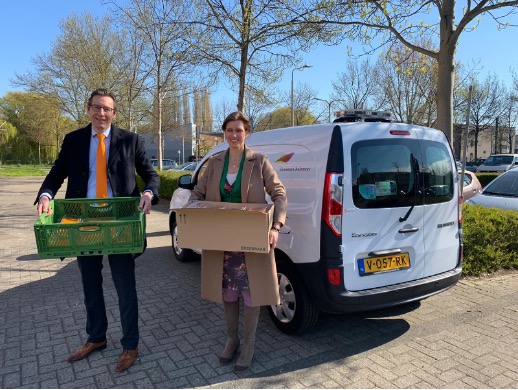 Driving through the city I felt pleased noticing the decorations and the traditions being followed. The Dutch National Anthem was hung in the care centres and Dutch flags were hoisted on the buildings and houses.
Today's silent celebrations reminded me of the hustle Netherlands generally has on this day. With people being dressed up in all orange clothing from head to toe, the flavour of Netherlands is very different. Orange garlands, orange feather caps, orange bracelets, sunglasses, flags, shoes, orange wigs and sometimes dyed orange hair too. Shops would amaze you with variety of orange stuff they sell for this day. Truly freaky and funky.
Orange is the color of the country so why not! It is exquisite to see the whole nation dressed in one color. The country sparkles just like a newlywed bride in India on her wedding day with her dress and jewellery.
Big banners in orange that said "Ik hou van Holland" meaning "I love Holland" are hung at countless places. There are face painters who paint the children's faces in orange.
Yet, a typical King's day is never complete until you visit or host the second-hand stalls on the streets yourself. This day is meant to sell off the un-wanted stuff in ones' house at throwaway prices. It is fun to do that roadside shopping. Generally, little children set up their own stalls and sell off their toys and clothes and many other belongings on this day.
It is a very decent way to teach children to make their own pocket money. It helps them to learn parting with their favourite toys and letting others enjoy. The day is strictly meant for selling the second-hand stuff, and no new items. Unfortunately, this year we could not have fun on the streets but looking back at the years that did bring us joy still bring smiles.
Today the country is not the way it always is on the King's Day, but the feelings are all intact. The spirits are soaring high and the wishes for the King's birthday are still heartfelt.
We survived last year, and we will make it through these hard times this year too. Together we can endure through all this and hopefully we will celebrate the next King's day in full mirth and glory.
Thank you to all the members of Amstelveen Oranje. I am very happy to get an opportunity with you, to give something back (my time, energy and enthusiasm) to the country I call my home after leaving my homeland India.
Jagdeep Kaur
I am an HR professional and a freelance author with more than 13 years of experience working in the areas of General HR, Training and Development, Recruitment, and building start-ups. I now live in Amsterdam, The Netherlands, and love to write about my experiences and of other expats in this beautiful country. My blogs, interviews, and poetry are a pure reflection of my personal interactions, thoughts, and experiences.